Restoration Vision
A classic venue for a modern draw...
The Colonial Fox Theatre was once an entertainment beacon in Pittsburg's downtown landscape. This classic venue served as a cultural gathering place that thrust the Southeast Kansas region into a modern era of entertainment.
Age, neglect, and deterioration were almost the ruin of this area treasure. More than 40 years have passed since the Colonial Fox marquee illuminated a bustling sidewalk to welcome audiences into Pittsburg's downtown retail district. Since that time, without this rich performance venue, the downtown has been without an economic anchor.
Now is the time to revive the historic Colonial Fox Theatre and to recharge Pittsburg's downtown district. As the premier art-film screening room and intimate cultural arts center of the region, the theatre will offer the community great entertainment in a great house.

East Façade
The Colonial Fox Theatre Foundation envisions a uniquely beautiful venue featuring local, regional, and national performers, films, and diverse cultural events. This historic treasure will be an intimate and vibrant event space in the downtown landscape, offering diverse programming for a culturally diverse region.
Marquee Sidewalk Terrace
In addition to a classically rich performance space, this venue will be enhanced by an expansion which will ensure a first rate entertainment experience for performers and patrons alike. The marquee terrace might offer occasions for the ambiance of a sidewalk cafe.





Historic Lobby
Once entering through the Colonial Fox's heroic arched foyer, patrons will experience a richly-renovated historic lobby. Patrons will enjoy the historic 1920s architecture mixed with art deco enhancements from the 1930s.


Expanded Lobby
A grand staircase in the expanded lobby leads patrons to a lofted concession lounge which overlooks the pavilion, a modern multi-purpose performance space that can be re-purposed as an art gallery or a small banquet hall. The lofted lounge also offers patrons the magnificent view of a bustling Broadway District illumited by the historic Fox marquee. Click play to see all views.
Colonial Fox Audience Chamber
The entrance to the main house through the lofted lounge area provides access to premier boxed lounges where drinks and appetizers may be served.
First floor:
The expansion of the Colonial Fox Theatre will offer a community living room that modern patrons enjoy and demand. In addition to providing a multi-purpose performance space, the expansion will house much needed bathroom facilities and
back-of-house theatre support.

Second floor:
The historic 620 seat main house will be re-configured for comfort with more space in between the rows. The passage from the lofted concession area is also a passage to handicapped-accessible seating area.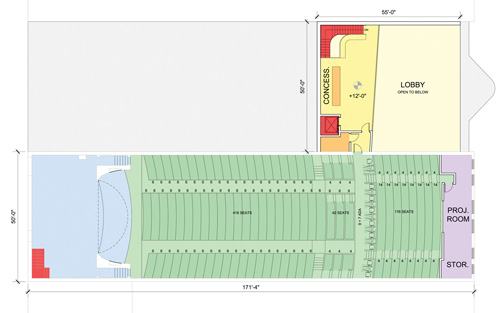 For more of the story...
Restoration Vision
Testimonials of Community Support
An Investment in the Future: Foundation Accomplishments
Letter From our campaign co-chairs; Dr. Gina and Mr. Brian Pinamonti