Staff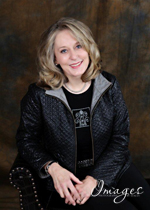 Executive Director
Vonnie Corsini
Email: vonnie@colonialfox.org

Vonnie joined the Colonial Fox Theatre Foundation as Executive Director in March 2010.  However, she first became affiliated with the Foundation in January, 2007 as its founding Development Director. Her leadership in the initial fundraising efforts led to the paying off of all outstanding debts and back taxes, the development of a strategic and business plan, and the creation of an exemplary board of trustees.  Vonnie was appointed interim Vice President in March, 2007, Acting President in August, 2007, and elected President in January, 2008.  Under her direction, the CFTF achieved 501 (c) 3 status, secured ownership of the Colonial Fox Theatre, completed an initial Market Research Study, a Structural Conditions Report, and a Preservation Plan. 

During her first two years with the Foundation, Vonnie insured its fiscal and public credibility through successful grant applications and awards, including a 2008 – 2010 Pritchett Trust Fund Grant, a 2008 Heritage Trust Fund Grant, two 2008 Kansas Art Commission Mini-Grants, and a 2008 Community Foundation of Southeast Kansas Grant, a 2008 Founders Fund Grant, and a 2008-2010 Bess Spiva Timmons Family Foundation Grant, and a 2009 Save America's Treasures Grant.   

Vonnie has over 30 years experience in the public environment, working with and volunteering for nonprofit organizations.  She has served as president of the Kansas Historic Theatre Association since 2009 and continues to serve as Coordinator of the Pittsburg Food Cooperative, a position she has held for 20 years.  She formerly was the Academic Assessment Coordinator for Pittsburg State University, in Pittsburg, Kansas.  She served as officer and board member of the Friends of the Axe Library, Fundraiser and Project Coordinator for the SEK Humane Society, as a board member of the Pittsburg Wesley House and the Pittsburg American Red Cross.   Vonnie holds a bachelor's degree in education and a master's degree in communication from Pittsburg State University. 

Vonnie brings her years of experience in organizational and business communication, goal setting, consensus building, fund raising, project supervision, database development and management to every phase of the development of the Colonial Fox Theatre Foundation.
---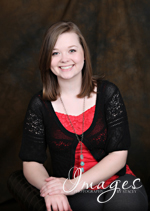 PR/Marketing Director
Sarah Jensen
Email: sarah@colonialfox.org
Sarah joined the Colonial Fox Theatre Foundation in September 2010 as Public Relations/Marketing Intern and in 2011 became a permanent staff member of CFTF. During her time with the Foundation she has helped to organize events and promotions. She is primarily responsible for design and organization of the Foundation's website and social media.
Sarah graduated from Pittsburg State University with honors and received a Bachelor of Science in Technology in Commercial Graphics. While at college, she was involved in leadership with Campus Crusade for Christ and was a member of Gamma Epsilon Tau Printing and Graphic Design honors society during her Junior and Senior years. As a freshman and sophomore in college, Sarah has received scholarships from Pittsburg State University's Music Department for a Minor in Music in Voice.
Formerly a resident of Burlingame, Kansas, Sarah was an active member of community and local theater projects and always maintained a heart for the performing arts and historic places. Even before high school, Sarah competed and maintained involvement in local and regional music and art competitions. She played an active role as a worship leader in her church and was a member of several personal musical endeavors. Before attending Pittsburg State, Sarah received academic scholarships to attend classes at Allen Community College in Burlingame and was inducted as a member of Phi Theta Kappa honors society in 2007. Sarah continues to show her passion for the arts in her commitment to CFTF.
---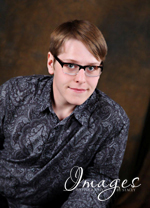 Administrative Assistant/Research Intern
James Collver
Email: james@colonialfox.org
James joined the Colonial Fox Theatre Foundation in December 2011 as a Student Intern through the Pittsburg State University Work Study Program. James' duties with the Foundation include a focus on researching and archiving important historical information and coordinating the publication of the Foundation's quarterly Green Room Newsletter.
James is a Pittsburg, Kansas native and 2010 graduate of Pittsburg High School (PHS). His research skills were honed by his experience on the PHS Debate and Forensics teams. He was president of the PHS chapter of the National Forensics League, achieved Outstanding Distinction, and was the Chapter Point Leader. James is currently attending Pittsburg State University as a Graphic Communications Management major. He is also Vice President of the Graphic Arts Club.
James has always had a love for the performing arts. At the age of 5 James began his involvement with theatre by acting in the Drama Workshop Program, Pittsburg Community Theatre, and various school productions. His love for the fine and performing arts directly influences his work as he contributes to the revitalization of the historic Colonial Fox Theatre.

Photography contributed by